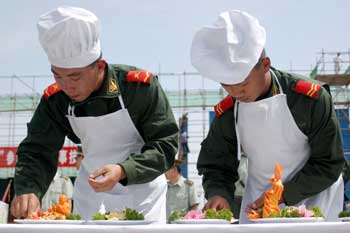 Erin
has called for a contest over here, and I think it sounds like a fun idea! So here we go!
Only there are no prizes...so maybe that's not a real contest. But anyway, if you want to participate, the contest is to see who can come up with the most creative and delicious recipe from the items that I have in my home at this moment.
So here is what's in my pantry (or fridge, as the case may be):
2 potatoes
1 head garlic
1 28 oz can diced tomatoes
1 reg. can pinneapple chunks
bag of frozen corn
bag of frozen green beans
bag of frozen spinach
bag of frozen celery
fresh spinach
cottage cheese
lb of ham
lb of ground beef
updated: upon looking more closely at the picture below I realized that we also have quick oatmeal and maple syrup, if that helps
I also have the very basic staples of: a dozen eggs, sugar, flour, cornmeal, and some standard spices. And that's about it.
So if you think you can come up with an appetizing recipe from these items, go for it! My family will thank you. Just post your suggestions in the comments.
And thanks for playing.
:o)